November 7, 2017
HSA Commercial Real Estate today announced the firm has signed a long-term lease renewal with Naples, Italy-based Seda International Packaging Group ("Seda") at Park 94 in Mount Pleasant, Wis. In 2010, Seda, the world's largest manufacturer of food packaging products, purchased a 323,610-square-foot building at 12501 Globe Drive in Park 94 from HSA Commercial to serve as its North American manufacturing and distribution center following a competitive review of sites in the United States and Canada. In order to serve its expanding operations in southeast Wisconsin, Seda in 2015 subsequently leased 61,162 square feet of additional space in the multi-tenant industrial building owned by HSA Commercial at 1400 International Drive, for which Seda recently executed a lease extension.
"When Seda chose Park 94 as their North American manufacturing headquarters in 2010, they helped pioneer the growth of what has become one of the most robust industrial corridors in the United States," said Robert Smietana, vice chairman and CEO of HSA Commercial Real Estate. "We are pleased that they are continuing to expand and reinvest in their operations in southeast Wisconsin."
Located at the intersection of State Highway 20 and International Drive, just 15 miles north of the Illinois-Wisconsin border, Park 94 at Mount Pleasant is a 184-acre multi-phase, multi-use business park development. InSinkerator is currently building its $24 million, 86,200-square-foot headquarters and laboratory facility at Park 94, and Foxconn recently announced that it would develop its North American manufacturing facility in Mount Pleasant on land just south of Park 94. According to recent news reports, the Foxconn plant will employ 13,000 local workers and include multiple buildings totaling 20 million square feet at an estimated cost of $10 billion. Given the unprecedented growth occurring nearby, Park 94 is well-positioned to offer additional warehouse and distribution facilities as part of subsequent phases.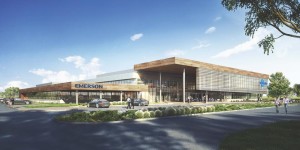 "When the partners at HSA acquired the land for Park 94, we all believed in the strategic value of the I-94 logistics corridor between Chicago and Milwaukee," Smietana said. "That being said, I don't think any of us could have anticipated the scale and pace of development we are witnessing today with new facilities from Foxconn, Amazon, Uline, Seda and InSinkerator all being built or announced in the last few years."
Park 94 is located in a tax-increment district (TID) that is part of a 950-acre development zone. The zone will accommodate corporate/professional offices, hotels, research facilities and light industrial buildings, as well as retail and restaurants in the heart of fast-growing Mount Pleasant. With access to two I-94 interchanges and State Highway 20, as well as rail connections, Park 94 offers excellent visibility in the rapidly emerging Chicago-Milwaukee corridor and provides access to labor markets to the north and south.
Roger Siegel from The Dickman Company represented ownership in the lease transaction.
Related Properties
Related Staff
HSA News & Listings Alerts
Join the email list for updates and new listings.