August 29, 2018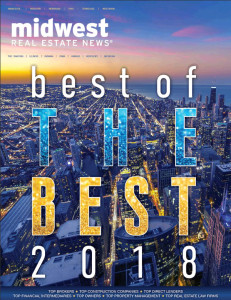 HSA Commercial Real Estate was again named as one of the "Best of the Best" commercial real estate owners and property managers according to the annual rankings by Midwest Real Estate News.
HSA Commercial's portfolio of owned real estate assets continues to grow as the firm completes major new development projects including: Commerce Farms V, the 652,000-square-foot distribution center in Lebanon, Tenn.; Heartland Corporate Center, the 757,880-square-foot warehouse building under construction in Shorewood, Ill.; Drexel Town Square Health Center, the 109,000-square-foot multi-specialty medical center in Oak Creek, Wis.; and the newest phases of The Mayfair Collection, the 69-acre mixed-use development anchored by Whole Foods and Nordstrom Rack in Wauwatosa, Wis.
Both of the awards received by HSA Commercial are listed below and organized by property type:
Top Owner (12,078,885 SF)
Industrial: 9,789,780 sf
Healthcare: 811,905 sf
Office: 247,150 sf
Retail: 1,230,050 sf
Top Property Manager (14,148,845 SF)
Industrial: 10,010,660 sf
Office: 468,585 sf
Retail: 1,230,050 sf
Healthcare: 2,439,550 sf
Complete rankings can be found in the Midwest Real Estate News online edition.
Related Staff
HSA News & Listings Alerts
Join the email list for updates and new listings.