August 11, 2017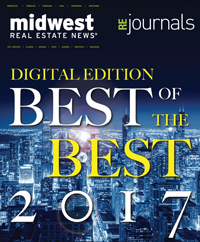 HSA Commercial Real Estate was recognized by Midwest Real Estate News as one of the region's "Best of the Best" firms as part of the publication's annual rankings. Since 2016, HSA Commercial's management portfolio of industrial, healthcare, retail, and other assets has grown by almost two million square feet earning the firm a spot as one of the top property managers in the Midwest. HSA's portfolio of owned real estate assets grew similarly based on several new developments and acquisitions including: Commerce Farms V, a 650,000-square-foot distribution center development in Nashville, Tenn.; Drexel Town Square Health Center, a 92,000-square-foot multi-specialty medical center in Oak Creek, Wis.; and new phases of The Mayfair Collection mixed-use development in Wauwatosa, Wis.
Both of the awards received by HSA Commercial are listed below and organized by property type:
Top Owner (12,048,800 SF)
Industrial: 9,688,410 sf
Healthcare: 800,040 sf
Office: 330,300 sf
Retail: 1,230,050 sf
Top Property Manager (14,102,460 SF)
Industrial: 10,594,210 sf
Office: 483,240 sf
Retail: 1,230,050 sf
Healthcare: 1,794,960 sf
Complete rankings can be found in the Midwest Real Estate News online edition.
Related Properties
Froedtert & the Medical College of Wisconsin Drexel Town Square Health Center
Related Staff
HSA News & Listings Alerts
Join the email list for updates and new listings.