December 10, 2015
This month, the HSAwareness team joined forces with the firm's long-time partner, Chicago Commons, to prepare and deliver gifts for local low-income families, just in time for the holidays. A team of volunteers led by HSA senior vice president, Josephine Thomas-Hoytt, allowed participants to either sponsor a family by purchasing gifts independently or provide a monetary contribution for HSA volunteers to do the shopping. With considerable donations from both inside and outside of the company, the HSAwareness team carefully chose items for each individual, including onesies, musical toys, and stuffed animals for the babies, and sweaters, board games, and activity books for the older children. Each family also received a box of microwave popcorn and a copy of Pixar's Inside Out for a family movie night.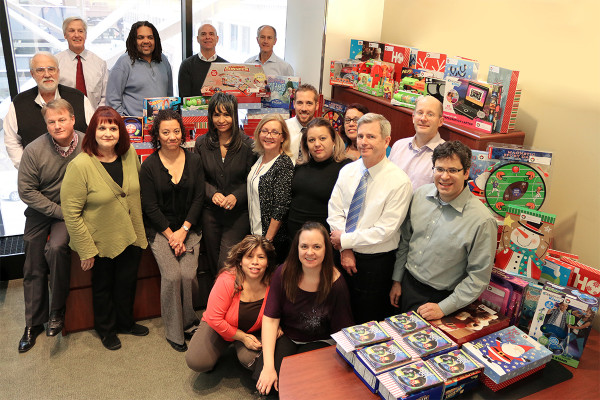 In the end, volunteers packaged holiday gift bags for 10 families, totaling over 30 individuals, to be distributed throughout Chicago Commons' four child development centers: Taylor Center for New Experiences, Nia Family Center, Guadalupano Family Center, and Paulo Freire Family Center. These facilities serve to improve the math, language, emotional, and cognitive skills of over 800 at-risk children in the Chicagoland area.
HSAwareness has previously worked with Chicago Commons on multiple facility renovation projects, including freshening the playground at Paulo Freire Family Center in July (watch a video of the project). Bob Smietana, HSA Commercial's CEO, is a long-time governing board member at Chicago Commons.
The HSAwareness team would like to sincerely thank everyone who contributed to our winter clothing and toy drive, and we look forward to working with all of our friends and colleagues to continue to make a difference in the lives of others through our future endeavors.
HSA News & Listings Alerts
Join the email list for updates and new listings.