March 6, 2023
HSA Commercial has officially entered the Southeast region with the groundbreaking of Highland Commerce Center of Fort Myers, the largest cross-dock warehouse in Southwest Florida. The 481,933-square-foot development will be a speculative industrial facility located at 16500 Oriole Road in Fort Myers, FL.
Representatives from HSA Commercial joined project partners at the ceremonial groundbreaking for the warehouse, which will deliver in fourth quarter 2023.
"With industrial vacancy in Southwest Florida at a record low, we were eager to bring our experience and expertise to the region to meet the strong demand for modern warehouse space," said Robert Smietana, vice chairman and CEO of HSA Commercial. "This new facility meets the critical need for all types of industrial use, from storing and distributing construction materials to support rebuilding after Hurricane Ian to servicing the accelerating demands of the region's e-commerce activity."
Located directly off Interstate 75 at the Alico Road interchange, Highland Commerce Center of Fort Myers marks HSA Commercial's first development in Florida. In addition to offering proximity to transit infrastructure – including Southwest Florida International Airport, about 5 miles to the northeast – the development will feature best-in-class specifications, such as 36-foot clear heights, 96 dock doors, four drive-in doors, 181 parking spaces, 138 trailer spaces and a building depth of 500 feet. The building will be divisible to two 240,000-square-foot suites.
Neighboring tenants include Amazon, Coca-Cola, Red Bull, Wayfair, White Cap, Rice Insulation & Glass, PGTI Innovations and Linder, among others.
"Industrial facilities of this size are rare along the Gulf Coast and are needed to service the region's large population centers and growing number of national retailers," said Tim Thompson, executive vice president of industrial at HSA Commercial. "In addition to commencing work on Highland Commerce Center of Fort Myers, we are actively seeking new sites for industrial development throughout southwest Florida."
Partners in Design Architects has been selected as the architect for Highland Commerce Center of Fort Myers, while PREMIER Design + Build Group, LLC will serve as general contractor and Atwell Group will provide civil engineering services. The warehouse will be leased by Derek Bornhorst, Adam Bornhorst and Frank Martone of the Fort Myers office of Lee & Associates.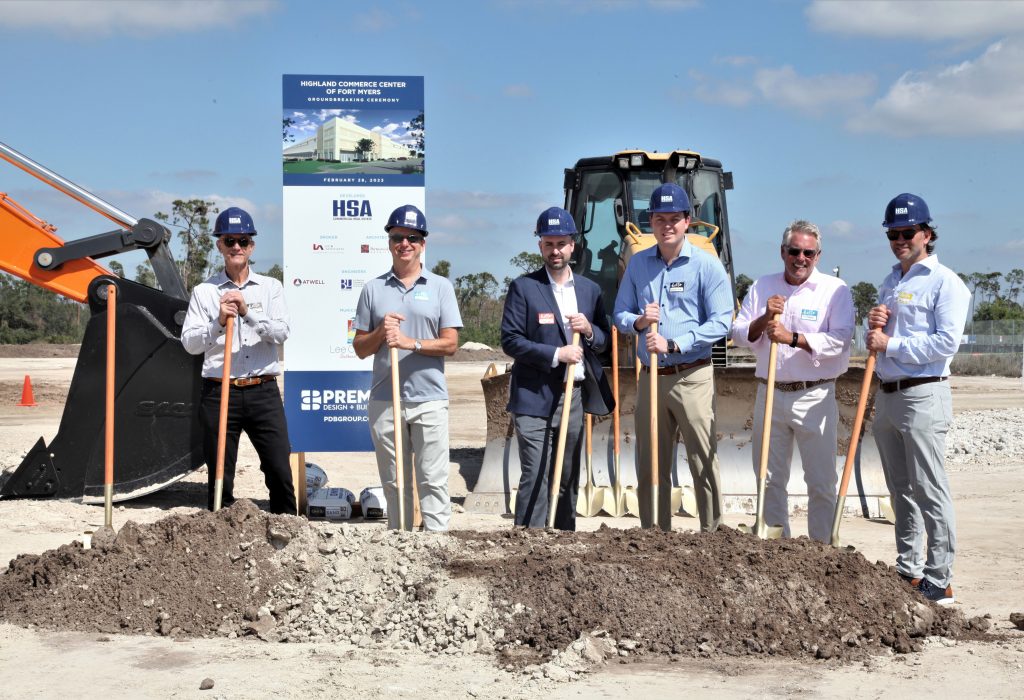 Related Staff
HSA News & Listings Alerts
Join the email list for updates and new listings.