John O. Wilson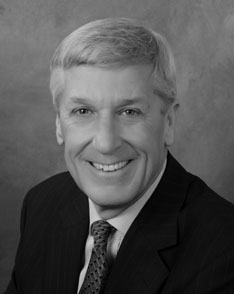 President of Corporate Real Estate Services and HSA PrimeCare
Healthcare, Office
Contact
P:
312.458.4424
jwilson@hsacommercial.com
Experience
Having been in the industry for more than 25 years, Wilson is one of Chicago's most respected commercial real estate leaders. He has been successful in all aspects of the industry, including tenant representation, property marketing, real estate development, land transactions and owner representation. Wilson has negotiated hundreds of lease transactions valued in excess of $1 billion on behalf of a variety of prominent tenants and landlords. Some of those clients include The Federal Reserve Bank of Chicago, Kemper Financial Services, Honeywell and Bank of America.
In 1995, Wilson initiated a healthcare real estate advisory initiative which has grown into a separate operating division of HSA called PrimeCare. Wilson has led the growth of this group, which serves clients such as Good Samaritan Hospital, Christ Medical Center, Lutheran General Hospital, Provena St. Mary's South Suburban Hospital, and M & M Orthopaedics, to name a few. The group has also developed and purchased healthcare facilities across the Midwest totaling more than 1,000,000 square feet in size.
Affiliations
Wilson is a licensed real estate professional in the State of Illinois, a charter member of the Chicago Office Leasing Brokers Association and a member of The Healthcare Financial Management Association, The Center for Health Design, and on the Advisory Board of B.U.I.L.D.
Education
Benedictine University
Related News
John Wilson Inducted into the Midwest Commercial Real Estate Hall of Fame
HSA PrimeCare's John Wilson Discusses the State of the Medical Office Market
HSA PrimeCare Announces Completion of 5,168 SF Expansion at The University of Chicago Comprehensive Medicine Cancer Center in Suburban Chicago