November 19, 2012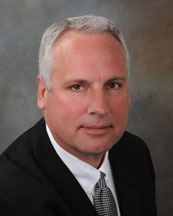 In this edition of the HSA Team Member Spotlight, we talk with Mark TeGrootenhuis, senior vice president with the development division of HSA Commercial. Mark's responsibilities include property condition inspections, pre-development construction cost underwriting, securing required entitlements and managing the design and construction process for development projects through HSA Commercial and HSA PrimeCare.
HSA: What projects are you currently working on?
TeGrootenhuis: Right now, we have three active healthcare development projects. The first is a 12,000-square-foot medical facility for Franciscan St. Anthony Health on a greenfield site in Lowell, Indiana. The second project is a surgical center in Vernon Hills that we are developing for an orthopedic group that we will be breaking ground on in February. The third project is the addition of a second linear accelerator vault at the Silver Cross cancer center. Depending on who you talk to, the cancer center, which opened earlier this year, is already at its 3 to 5 year goals of projected patient throughput. Fortunately, we built the facility with the flexibility for expansion, though it's happening sooner than anyone expected. There may even be the potential for an additional building on campus to provide oncology services as well.
HSA: Given your diverse construction background, how would you say that healthcare clients are unique?
TeGrootenhuis: The challenge in healthcare is always finding the right balance between creating the most pleasant patient experience, especially when you are dealing with serious illnesses, while still maintaining control of the development budget. Hospital systems go to great lengths to ensure that their patient experience is as comfortable and pleasant as possible. With the Franciscan St. Anthony cancer center in Michigan City, the chemotherapy infusion bays were set up in comfortable recliners that were lined against a curtain wall to provide the patients with daylight and window views, and they were grouped together so that the patients could talk to each other and relax. For the Silver Cross cancer center, the linear accelerator required a concrete vault to contain the radiation, but the Hospital did not want patients to feel like they were inside of a vault. In the design process, we were able to create a longer entry way that allowed us to use a thinner door, and we lined that hallway with artwork to make the patient feel comfortable when walking in.
HSA: Several years ago, there was a lot of talk about "green projects". Is that still the case in healthcare construction?

TeGrootenhuis: In a lot of cases, "green" and sustainable products like lighting and finishes are a lot more commonplace than they were several years ago, and rather than being charged a premium for those products, they have been priced to market. What we've found over time though is that a lot of the LEED certification requirements were not cost-effective or even realistic for smaller projects, so developers and clients have chosen the best and most relevant parts of the LEED standards that they can apply within their budgets in ways that make sense. Energy efficiency has driven practical "green" initiatives, often following Energy Star guidelines.
---
Mr. TeGrootenhuis is a 30 year veteran of the real estate construction industry with experience on a multitude of commercial, retail, industrial, and medical office building construction projects for Turner Construction Company. He has served as Project Manager for numerous developments in the Greater Chicago Metropolitan Area including the United Airlines terminal at O'Hare International Airport and the University of Illinois Medical Center Outpatient Care Center. In 1999, the 245,000-square-foot Outpatient Care Center opened as a state-of-the-art facility with a fully-computerized medical record system.
HSA News & Listings Alerts
Join the email list for updates and new listings.