January 10, 2017
In a recently-published interview with the Nashville Post, HSA Commercial Real Estate CEO Bob Smietana discusses the driving factors behind the robust industrial development activity in Nashville, Tenn. HSA Commercial is currently under construction on a 652,000-square-foot distribution center at Commerce Farms Business Center in suburban Nashville with completion scheduled for spring 2017, so Bob had timely insights to share.
The current industrial vacancy rate is 4.3 percent, down from a historical average of approximately 8 percent —suggesting the market is still undersupplied. There's an additional 4 million square feet of new industrial development in the pipeline, but all indications are that the Nashville market could absorb that space very quickly. Therefore, the market still has a long way to go before supply catches up with the pent-up demand.
Though some have questioned what impact the slowdown in big-box retail will have on distribution centers, Smietana points to growth in e-commerce and other economic sectors as key catalysts in the industrial marketplace.
Today, more goods are being shipped directly to the consumer rather than to physical storefronts, some of which have started carving out space for online order pickup.  This shift will require additional investment in smaller distribution facilities — including some in urban infill locations — that can fill the gaps between the larger regional hubs. Nashville's central location relative to the U.S. population centers makes it a vital link in the chain.
Smietana also explains that the pace of industrial development and investment has accelerated in the past few years, in part, because of the over-supply of multifamily residential properties.
Nashville has one of the most robust apartment development pipelines in the country, and while much of the new inventory has been absorbed, an anticipated slowdown in rent growth has made lenders more selective about which projects they choose to finance.  This has shifted attention away from multifamily to other, more stable sectors like industrial real estate. In many respects, the current lending environment for industrial projects is substantially better than it has been in the past, particularly in high-demand markets like Nashville.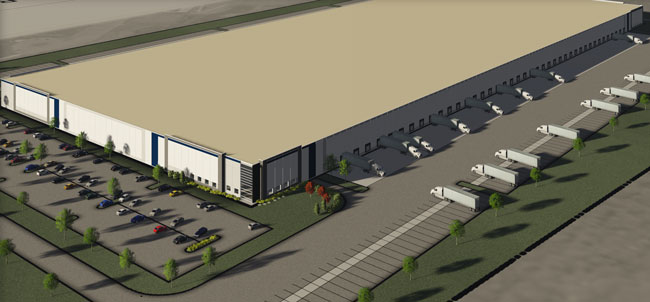 Located on 41 acres at the junction of State Route 840 and Highway 109 in Lebanon, Tenn., the Commerce Farms V development by HSA Commercial will feature 32-foot clear heights, 116 truck docks, two drive-in doors and parking for 84 trailers and 257 cars. Situated near full interchanges with Interstates 40, 24 and 65, Commerce Farms Business Center offers tenants convenient accessibility to the entire Nashville regional interstate system.
To read the full interview with Bob Smietana, please visit the Nashville Post website (subscription required).
Related Staff
HSA News & Listings Alerts
Join the email list for updates and new listings.