< Back to Search Results
< PREV | NEXT >
---
Main Street Station in Downtown Orland Park
NWC 143rd Street and LaGrange Road, Orland Park, IL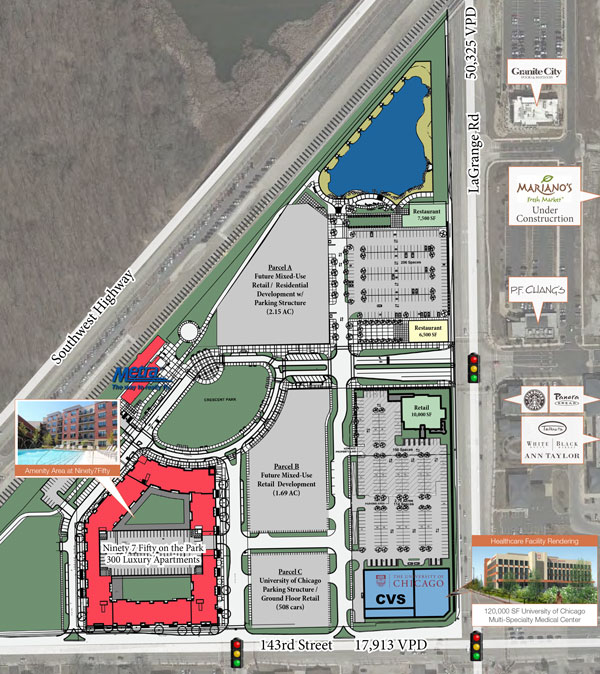 | Size: | Property Type: | Status: |
| --- | --- | --- |
| Various sqft. | Development | For Lease |
Property Highlights
The Village of Orland Park has undertaken the redevelopment of what is commonly known as the "Main Street Triangle District", bounded generally by LaGrange Road on the east, 143rd Street on the south, and the Metra Southwest Service Line/ Southwest Highway on the west.
The Village is working with HSA Commercial to design and construct a high-end mixed-use development including retail and commercial space that complements the residential and transportation aspects of the project. This project satisfies a longterm goal of the Village and the community to create a dynamic downtown area designed with the highest-quality architecture and occupied by unique, best-in-class retail tenants and other commercial uses. The first phase of the development, a 295-unit luxury apartment development, is already open on-site.
HSA Commercial, represented the Village of Orland Park in a recently-announced proposal with the University of Chicago Medical Center whereby the prestigious healthcare provider will construct a four-story, 120,000-square-foot multi-specialty medical building at the northwest corner of 143rd Street and LaGrange Road. The state-of-the-art new facility will offer patients access to specialized treatment in radiation oncology and orthopedics and may include a variety of other medical specialties including gastroenterology, cardiology, pediatrics, women's health and surgical consulting.
---
Attachments