HSA Services > Industrial
HSA's Industrial Services Division provides professional industrial real estate services, with a specialized focus on owner representation, investment sales and acquisitions, tenant representation. HSA's industrial client base ranges from multinational corporations to 3rd party logistics companies, to local entrepreneurial firms. Because the firm has established a reputation for procuring the best values for its clients, many of HSA's industrial assignments come from previously satisfied customers.
Tim Thompson, head of HSA's Industrial Division, leads a team responsible for more than 17 million square feet of industrial property transactions.
The Industrial Services Division specializes in:
Brokerage
Building acquisition and sale
Leasing
Tenant representation
Land acquisition and sale
Financial repositioning through sale/leasebacks
Consulting

Product Owner representation is a major component of our division and our clients include:
Bridge Development Partners
CenterPoint Properties
Chicago Tribune
Computer Discount Warehouse
Duke Realty Corporation
Fifield Companies
First Industrial Realty Trust, Inc
MIRVAC Industrial Trust
ML Realty Partners, LLC
Morgan Realty Partners


To learn more contact Tim Thompson, Managing Director of HSA Commercial's Industrial Brokerage Division at (312) 683-7260 or tthompson@hsacommercial.com
Tim Thompson, Executive Vice President with HSA Commercial Real Estate and the firm's Managing Director of Industrial Brokerage   

Paul Broderick, Assistant Vice President in HSA Commercial Real Estate's Industrial Services Group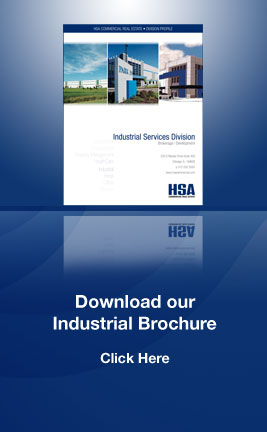 Tim Thompson
Tim Thompson is executive vice president and managing director of HSA Commercial Real Estate's Industrial Brokerage Division.
Experience
In the last 10 years, he has played a major role in HSA's development of over 5 million square feet of new industrial product in the Chicago metropolitan area, identifying development sites and overseeing the leasing teams that market the finished product.
Since joining HSA Mr. Thompson has represented Landlords and Tenants in negotiating hundreds of industrial lease and sale transactions valued at over $700 million. He has worked with prominent clients such as: Midwest Warehouse and Distribution System, Inc., ML Realty Partners, CenterPoint Properties, First Industrial Realty Trust, Inc., ProLogis, Duke Realty Corporation, MIRVAC Industrial Trust, Computer Discount Warehouse, Morgan Realty Partners, Motions Industries, Fifield Companies, Bridge Development Partners and the Chicago Tribune.
In addition he has actively participated in the acquisition and disposition of investment grade properties in excess of $200 million.
Mr. Thompson has been honored by the CoStar Group's Power Broker Award, named one of the top Chicago Industrial brokers by transaction volume by Commercial Forum and was nominated for Chicago Industrial Broker of the Year.
Affiliations
Prior to joining HSA, Mr. Thompson served as Executive Director of Insignia/ESG's Chicago Industrial Services Group. He is a former President of the Association of Industrial Real Estate Brokers (AIRE) and is an active member of the Society of Industrial and Office Realtors (SIOR).
Education
Dominican University, MBA
Northeastern Illinois University, BA
Mr. Thompson has been a licensed real estate broker for more than 28 years and has worked on teams representing a host of industrial users and building owners throughout the metropolitan Chicago area, working closely with third-party owners to market their assets for sale and lease.


Contact: HSA Direct Dial: 312.683.7260
Email: tthompson@hsacommercial.com
Paul Broderick
Assistant Vice President in HSA Commercial Real Estate's Industrial Services Group
Experience
Broderick focuses on property acquisitions, dispositions and market analyses for third-party owners, buyers and tenants. Paul assists clients with comprehensive property availability and valuation studies, lease vs. purchase analysis, build-to-suit alternatives, and property leasing/disposition strategies. He markets HSA industrial properties, third-party owned industrial properties, and works with tenants and purchasers in the western and southwestern Chicago suburban industrial markets. Paul also focuses on the acquisition of land parcels for development and for lease.
Prior to joining HSA, Paul worked for a subsidiary of a mining company seeking to provide technology solutions to other mining and construction firms in the United States, Canada and Mexico. Prior to this, Paul was an attorney in Chicago focusing on commercial contract and commercial lending litigation, as well as performing real estate transactions.
Affiliations
Broderick is a licensed real estate broker and licensed attorney in the State of Illinois and a member of the Association of Industrial Real Estate Brokers (AIRE).
Education
DePaul University College of Law, JD
University of Notre Dame, BA, English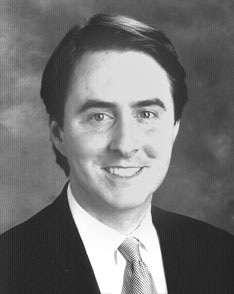 Paul Broderick represents both owners and tenants in the leasing, selling and marketing of industrial real estate assets.


Contact: HSA Direct Dial: 312.683.7257
Email: pbroderick@hsacommercial.com