March 22, 2017
Gateway Industrial IV Scheduled to Deliver in June 2017, Accommodating Users as Small as 25,000 SF
HSA Commercial Real Estate today announced the firm has entered into a joint venture agreement with Boston-based Great Point Investors for the development of a 151,220-square-foot speculative industrial building at the southeast corner of Columbia Road and Midfield Court in Plainfield, Ind., a southwest suburb of Indianapolis. The distribution center—called Gateway Industrial IV—is currently under construction, with delivery scheduled for June 2017. It will be the fifth and final building developed by HSA Commercial in the 40-acre Gateway Business Park. Chicago-based The PrivateBank provided the project financing.
HSA Commercial and Great Point Investors previously partnered on the development of Gateway Industrial III, an adjacent 220,000-square-foot building that was completed in 2015 and is now fully leased.
"Given our shared success with the rapid lease-up of Gateway Industrial III, we are excited to again be partnering with Great Point Investors in the development of the final warehouse building at Gateway Business Park," said Robert Smietana, vice chairman and CEO of HSA Commercial Real Estate. "The market interest has been very strong since we started construction last year as more logistics and transportation companies are expanding within or relocating to the booming Indianapolis market."
When complete, Gateway Industrial IV will feature 30-foot clear heights, 16 expandable truck docks, four drive-in doors and parking for 156 vehicles. The development is located just west of the Indianapolis International Airport and is designed to accommodate users as small as 25,000 square feet.
"Aside from the typical challenges such as the availability of pre-cast concrete, construction on Gateway Industrial IV has been moving along briskly," said Mark TeGrootenhuis, executive vice president and director of development services with HSA Commercial. "The walls of the building are now up, and we are continuing to erect the structural steel, which will put us on target for delivery in June."
HSA Commercial Real Estate's past projects at Gateway Business Park include a 104,400-square-foot flex building that was built in 2004; a 121,000-square-foot warehouse constructed in 2006; a 34,880-square-foot build-to-suit facility for the Federal Aviation Administration; and the 220,000-square-foot Gateway Industrial III. HSA Commercial Real Estate and Great Point Investors have also previously formed partnerships to develop a 650,000-square-foot distribution center in Nashville, Tenn. and a 218,500-square-foot warehouse in Waukegan, Ill.
John Hanley, Terry Busch and Jared Scaringe of CBRE are handling leasing for Gateway Industrial IV. Fishers, Ind.-based Meyer Najem is the general contractor for the project, which was designed by West Lafayette, Ind.-based KJG Architecture.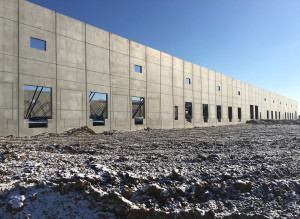 Related Properties
Related Staff
HSA News & Listings Alerts
Join the email list for updates and new listings.